REO-22 Ferrometer

REO-22 Ferrometer instruments provide numerical baseline values for any lubricated machine normal operational status. When major increases in the REO-22 Ferrometer readings occur, the Qualitative analytical system lets you visually evaluate the equipment particles to determine the source of the problem and take corrective action before any additional damage occurs.

Our research shows that REO-22 Instruments in combination with FERRO-Ware (SM) diagnostic reporting software provides the most sensitive, in-depth statistics concerning the operating condition of the

This non-intrusive method of testing relates to:
Equipment Particle Analysis (EPA)
Used Lubricant Analysis (ULA)
Photo and Optical Microscopy
Evaluated Documentation necessary for conditioning your PdM program
The direct results to our customers is savings and reduced downtime/repair costs, demonstrating a typical 10 to 1 return on investment for each maintenance dollar spent on this program.
You will save time and money because REO-22 Instruments require you to handle and process samples only once to obtain full evaluation.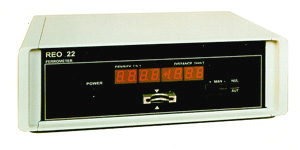 REO-22 FERROMETER